Spotlight: UN goal of wiping out AIDS by 2030 appears within reach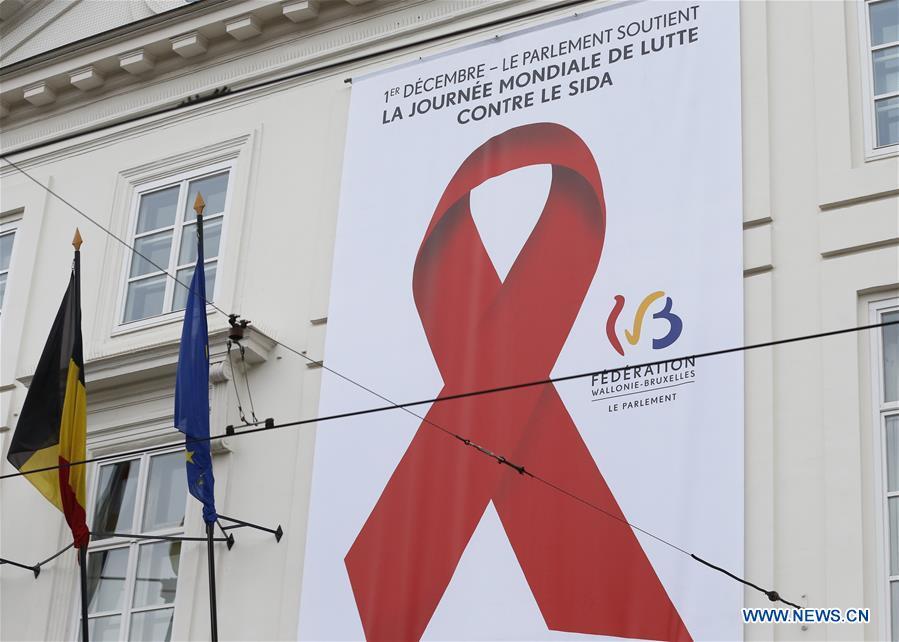 Photo taken on Dec. 1, 2017 shows a poster with red ribbon logo on the exterior wall of a government building in downtown Brussels, Belgium, on the occasion of World Aids Day. (Xinhua/Ye Pingfan)
by Xinhua writer Wang Jiangang
UNITED NATIONS, Dec. 1 (Xinhua) -- People with Human Immunodeficiency Virus (HIV) are living longer and healthier than at any time since the outset of the AIDS (acquired immunodeficiency syndrome) epidemic in 1981. On World AIDS Day, which falls on December 1, the United Nations is sending out a cheering message -- the goal of wiping out the epidemic by 2030 appears within reach.
BIG STRIDES
Almost 21 million of the 36.7 million people worldwide living with HIV had access to antiretroviral therapy (ART) in 2017 -- a huge jump from the 685,000 people undergoing treatment in 2000.
Deaths related to AIDS fell to 1 million in 2016 from 1.9 million in 2005, according to UNAIDS, the Joint United Nations Program on HIV/AIDS. If not treated, HIV can lead to AIDS.
This progress puts the world on track to reach the global target of 30 million people on treatment by 2020, Michel Sidibe, Executive Director of UNAIDS said in his message on the Day.
UNAIDS data show substantial progress has been made toward reaching the "90-90-90" target designed to help wipe out AIDS by 2030. The goal calls for 90 percent of people living with HIV to know their HIV status by 2020; 90 percent of those diagnosed to receive sustained ART; and 90 percent of individuals on ART to achieve viral suppression.
"More than two-thirds of all people living with HIV globally knew their HIV status in 2016," Sidibe noted. "Among those who knew their HIV status, 77 percent were accessing antiretroviral therapy and 82 percent of people on treatment had suppressed viral loads."
The availability of affordable, generic antiretroviral medicines has made HIV treatment accessible, he said.
The 1.8 million people who were newly infected in 2016 represent a 39 percent drop from the 3 million who became infected at the peak of the epidemic in the late 1990s, according to UNAIDS.
AIDS is no longer the high-profile public health menace it once was thanks to the discovery in 2011 that antiretroviral treatment can not only suppress HIV in the bloodstream and reduce the risk of spreading the virus, but also, some experts predict, eventually end the epidemic.
FUNDAMENTAL HUMAN RIGHT
"The right to health is a fundamental human right, everybody has the right to the enjoyment of the highest attainable standard of physical and mental health, as enshrined in the International Covenant on Economic, Social and Cultural Rights," Sidibe noted.
The world will not achieve the Sustainable Development Goals (SDGs), which include the target of ending AIDS by 2030, without people attaining their right to health, Sidibe said Friday, marking World AIDS Day with a strong appeal for the full realization of this fundamental right by everyone, everywhere.
Indeed, the right to health is linked to all the SDGs and "is interrelated with a range of other rights, including the rights to sanitation, food, decent housing, healthy working conditions and a clean environment."
Sidibe pointed out the most marginalized and affected still face challenges in accessing urgently-needed health and social services, asserting "we all must continue to stand shoulder-to-shoulder with the people being left behind and demand that no one is denied their human rights."
"For all the successes, AIDS is not yet over. But by ensuring that everyone, everywhere accesses their right to health, it can be," he concluded.
For her part, Audrey Azoulay, the Director-General of the UN Educational, Scientific and Cultural Organization (UNESCO), stressed the right to quality education for all, because the two goals -- health and education -- go hand in hand. "This linkage stands at the heart of the 2030 Agenda for Sustainable Development and the UNAIDS 2016-2021 Strategy, she explained.
As outlined in UNESCO's Strategy on Education for Health and Well-Being: Contributing to the Sustainable Development Goals, health and education are mutually reinforcing: healthy learners learn better, and better-educated learners are healthier.
"They are also mutually dependent -- without the right to education we cannot truly fulfil the right to health," Azoulay continued, stressing that in a world where young people -- especially girls and young women -- bear a disproportionate burden of HIV and AIDS, "we all must recognize that comprehensive sexuality education is central to their right to health, and to the health of all societies."
CHALLENGES CALL FOR MORE EFFORTS
Although big progress has been made, challenges still remain in the fight against this epidemic.
Some parts of the response to HIV are lagging behind. "In some regions of the world, hard-won successes are being reversed, with rising numbers of new HIV infections and AIDS-related deaths," UN chief Antonio Guterres warned, calling for "a renewed commitment to finish what we have started and to make the AIDS epidemic a thing of the past."
Picking up that thread in her message, Phumzile Mlambo-Ngcuka, the Executive Director of UN Women, said that according to UNAIDS, every four minutes, three young women become infected with HIV.
"They are clearly not enjoying their right to health, nor will they, until we are able to reverse the inequalities and discrimination that fuel HIV spread. Those whose health and future are currently least prioritized must become our focus, if we are to achieve the changes we seek," she said.
As such, leaving no woman or girl behind in the HIV response means ensuring their meaningful participation and engagement in designing that response, improving access to services and demanding their right to health.
"To do that, we foster women's voices and leadership and support their place at decision-making tables," Mlambo-Ngcuka continued, adding that in 2016, UN Women supported networks of women living with HIV in 31 countries to increase their engagement in the national HIV responses. "This World AIDS Day, UN Women call for a commitment to prioritize and reach all the women and girls being left behind in the HIV response: every last woman and girl."