World champion Axelsen wins men's singles title at Dubai World Superseries Finals 2017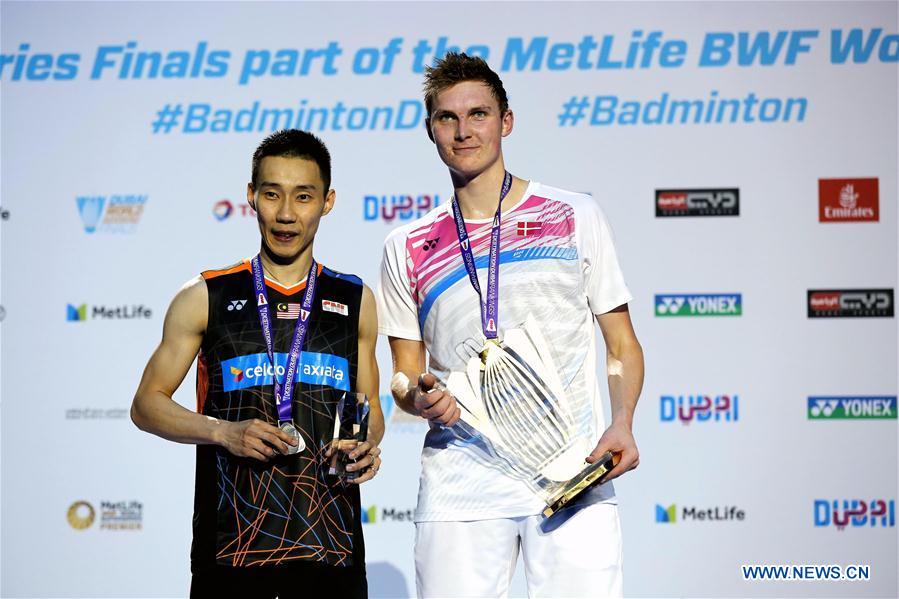 Viktor Axelsen (R) of Denmark and Lee Chong Wei of Malaysia pose on the awarding ceremony after their men's singls final match during the Dubai Badminton World Superseries Finals in Dubai on Dec. 16, 2017. Viktor Axelsen won 2-1. (Xinhua/Su Xiaopo)
DUBAI, Dec. 17 (Xinhua) -- World No. 1 Viktor Axelsen won the title of men's singles at Badminton World Federation (BWF) Dubai World Superseries Finals 2017 after defeating Lee Chong Wei of Malaysia 19-21, 21-19, 21-15 here on Sunday.
"It was great to play and win in Dubai again, and I love the amazing support from the Danish fans," said Axelsen who is fluent in Mandarin and also known by his Chinese name An Sailong.
Lee, a four-time champion at the World Superseries Finals but who has never triumphed in Dubai, acted cool and collected from the beginning, while 23-year old Axelsen visibly struggled with neck-pain. The 1.94 meters tall Dane could not play his physical dominance to the maximum and his shots landed more often on the wrong side of the court's line and lost the first set at 21-19.
Being aware of his opponent's speedy and agile power play, Li Chong Wei tried to outplay Axelsen with high shots across the court, but the right-handed Dane fought back in the second set to level the score after 1-1 and went on to edge Lee Chong Wei in the third set for the gold medal.