China's Zheng/Chen defend mixed doubles title at Dubai World Superseries 2017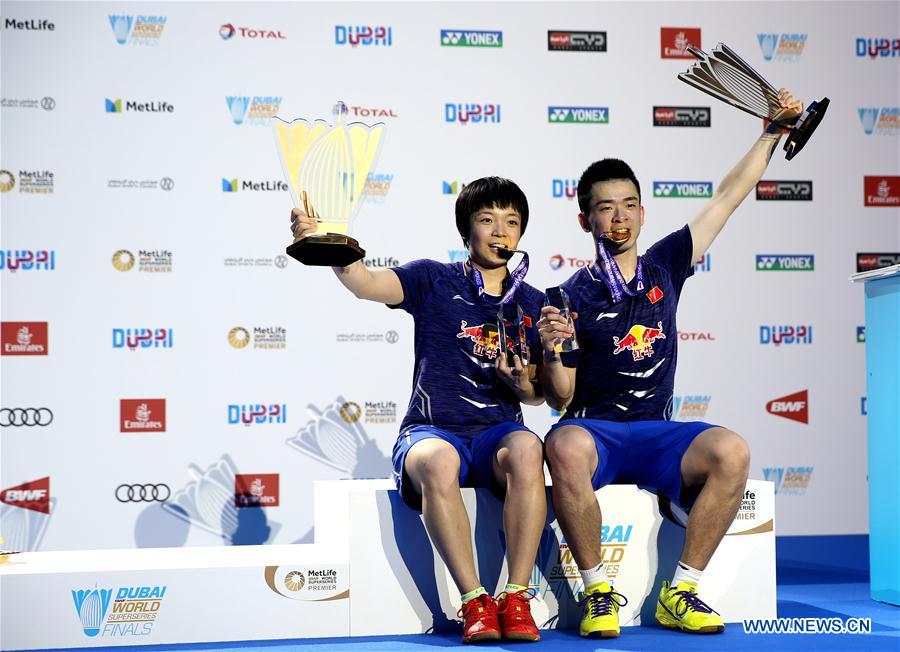 Chen Qingchen and Zheng Siwei (R) of China pose with the trophy on the awarding ceremony after winning their mixed doubles final match as part of the Dubai Badminton World Superseries Finals on Dec. 17, 2017, in Dubai.(Xinhua/Su Xiaopo)
DUBAI, Dec. 17 (Xinhua) -- Mixed doubles world number one Zheng Siwei and Chen Qingchen won on Sunday the final of the event at the five-day Badminton World Federation (BWF) Dubai World Superseries Finals 2017 on Sunday.
The Chinese pair won the title with a straight set victory of 21-15, 22-20 against Tang Chun Man/Tse Ying Suet from Hong Kong, China.
Hong Kong's Tang/Tse, who rank tenth in the mixed doubles and 2017 champions of the Danisa Denmark Open, had the chance to turn the match in the second set when they reached a 20-20 draw. But the Zheng/Chen held their nerves and snatch the win with a fast and well coordinated power play.
"We were mentally ready for the third set," said Chen. "This might have been the last time we played together as our coach want to form different mixed doubles pairs next season."
The top eight players in the men's and women's singles, men's and women's doubles and mixed doubles are competing for the titles in the season-ending tournament.