Zheng and Chen fail to defend, Chinese team miss out top podium at BWF French Open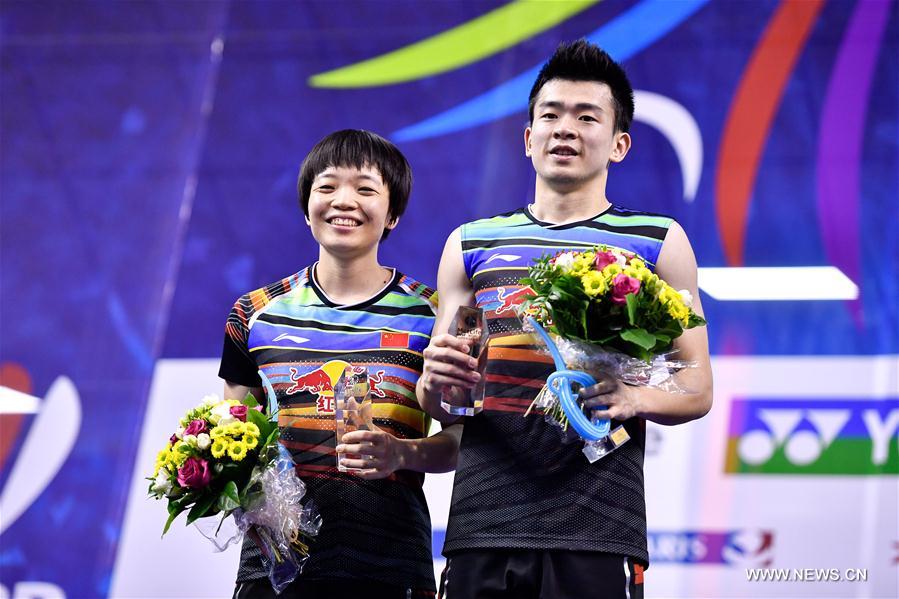 Zheng Siwei (R)/Chen Qingchen of China pose during the awarding ceremony after the mixed doubles final match against Tontowi Ahmad/Liliyana Natsir of Indonesia at 2017 Yonex French Open in Paris, France on Oct. 29, 2017. Zheng Siwei/Chen Qingchen were defeated with 0-2. (Xinhua/Chen Yichen)
PARIS, Oct. 29 (Xinhua) -- Chinese shuttlers looked set to finish the BWF World Superseries French Open with their worst ever performance after world No. 1 Zheng Siwei and Chen Qingchen lost the mixed doubles final to Tontowi Ahmad and Liliyana Natsir of Indonesia on Sunday.
China claimed only one title in 2015 with Huang Yaqiong and Tang Jinhua's victory in the women's doubles, their previous worst results in the tournament since it was promoted to one of the BWF Superseries event in 2007.
Zheng and Chen traded leads with their Indonesian opponents in both games, but could not prevail.
The top seeds led 9-4 early in the match before the Indonesian pair chipped away the deficit with five points in a row. With the game tied 20-all, the Chinese duo were penalized a point for violation to concede the game.
"We made good preparation before the match. We did pretty well in executing the tactics, but we failed to maintain our momentum midway through the match, and were restrained by our opponents," said Zheng.
Zheng and Chen held their opponents' nerves early in the second game, but the Olympic champion pair managed to go up after winning six points in a row.
"If we had won the first game, it would have been a different scenario in the second," said Zheng.
Apart from Ahmad and Natsir's triumph, Indonesia also claimed the women's title as Greysia Polii and Apriyani Rahayu beat Lee So Hee and Shin Seung Chan of South Korea 21-17, 21-15 in the final.
In the men's singles, Indian shuttler Srikanth Kidambi built on his recent momentum to defeat Nishimoto Kenta of Japan 21-14, 21-13, nailing his second straight Superseries titles in two weeks after success at the Denmark Open.