Ovtcharov overcomes Boll in an all-German World Cup final, China's Ma tastes bronze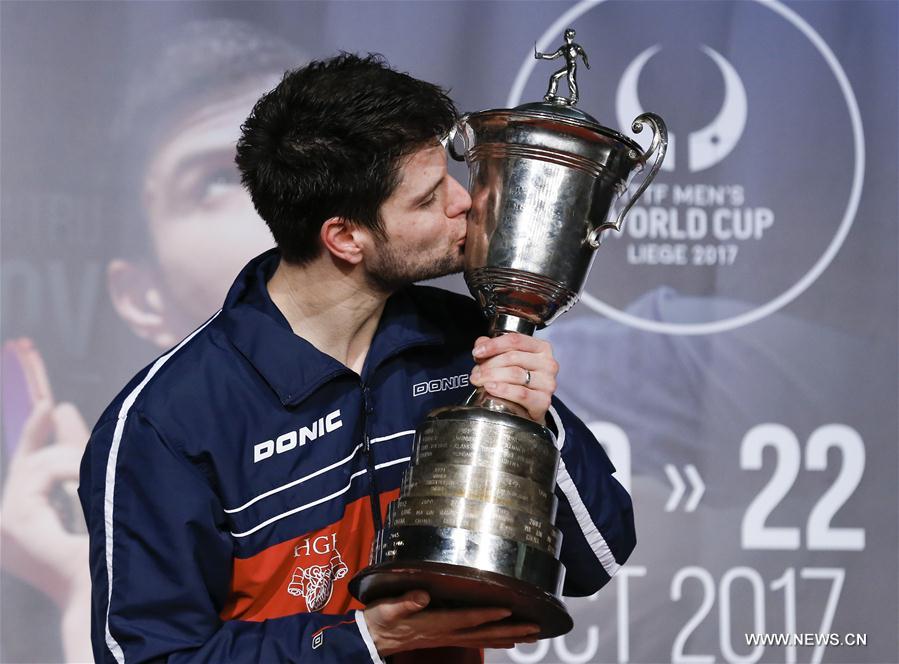 Dimitrij Ovtcharov of Germany kisses the trophy during awarding ceremony after winning the final against his compatriot Timo Boll at 2017 ITTF Men's World Cup in Liege, Belgium, Oct. 22, 2017. (Xinhua/Ye Pingfan)
LIEGE, Belgium, Oct. 22 (Xinhua) -- Second-seeded Dimitrij Ovtcharov got past his fellow German Timo Boll 4-2 to lift his first ITTF World Cup of career, while China's Ma Long regrouped himself from a disappointing semi-finals loss to beat Frenchman Simon Gauzy 4-2 in bronze medal match.
In the first ever all-German World Cup final since its inauguration in 1980, Ovtcharov harvested his first title in three major table tennis tournaments, namely Olympic Games, World Championships and World Cup.
He upset 36-year-old Boll, who saw off world champion Ma in the semi-finals earlier on Sunday, 10-12, 11-8, 11-7, 9-11, 11-7, 11-2.
"I could never have imagined a few years ago that I could win the World Cup," said an elated Ovtcharov.
Top seed Ma met a bit resistence in his 11-5, 11-13, 6-11, 11-5, 11-7, 11-9 victory over Gauzy to finish on podium.
"Since I come here to play, I try to play at my best level," said Ma in a court-side interview.
"I may feel a bit pity about the third finish here, but I can say that I have spared no efforts during this tournament," he told Xinhua.
The World Cup in Liege was Ma's final international tournament in 2017, as he was set to miss ITTF World Tour German Open and Swedish Open in November.
The Chinese paddler felt pretty satisfied with his results throughout the year, following his titles at World Championships, National Games and ITTF World Tour Qatar Open and Japan Open.
"At the start of this year, I just wondered that I could win one title at World Championships or National Games. However, I managed to win both, with two more titles at ITTF World Tour.
"So I can feel happy about it," he said.