China's Ma, Lin secure ITTF Men's World Cup quarter berths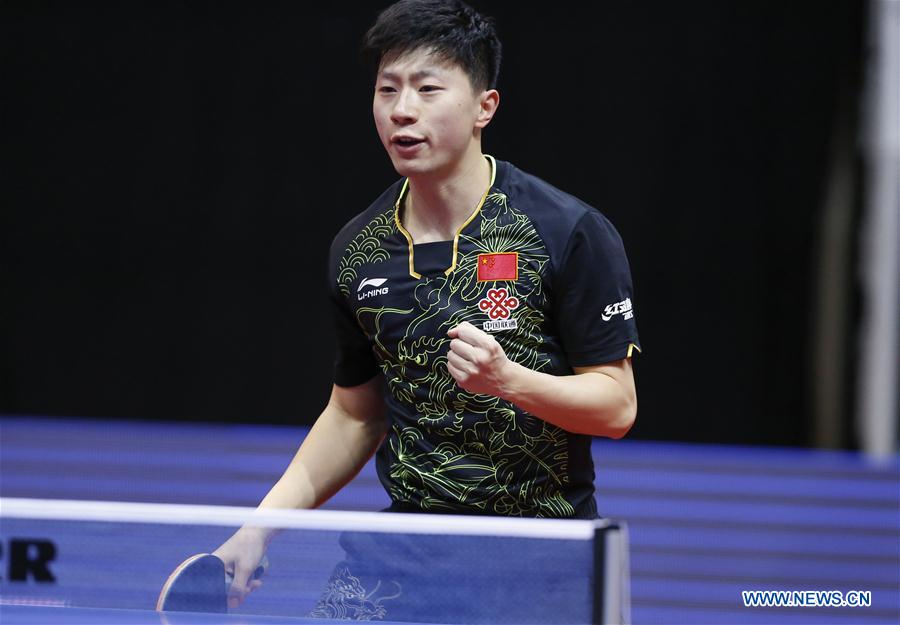 Ma Long of China celebrates during the 2017 ITTF men's singles first round match against Omar Assar of Egypt of table tennis World Cup in Liege, Belgium, Oct. 21, 2017. Ma Long won 4-1. (Xinhua/Ye Pingfan)
LIEGE, Belgium, Oct. 21 (Xinhua) -- Chinese paddlers Ma Long and Lin Gaoyuan withstood challenges to book their tickets in quarterfinals at the ITTF Men's World Cup here on Saturday.
The current world champion Ma saw off Egypt's Omar Assar 11-7, 7-11, 11-8, 11-8 and 11-4, setting up a quarterfinal clash with No. 5 seed Koki Niwa of Japan, who upset Lee Sangsu of South Korea in six games.
"Winning the opening match is the most important," admitted Ma as he was forced to share the first two games with his Egyptian opponent.
The third and fourth games were not easy for the Grand Slam winner either, but he managed to get through his campaign opener with nine points in a row in the fifth.
"The first four games were quite intense. This was a good start. I hoped that I could better prepare for matches to come.
"Koki Niwa is a very strong opponent, and he has made much improvement. I will prepare for the next match in a serious manner," said Ma.
Ma spent his 29th birthday here on Friday, hearing a birthday song from the crowds in the Country Hall de Liege before drawing ceremony for round of 16.
"I think that is the best birthday gift for me," he said.
After taking away the first game against wildcard Marcos Freitas of Portugal 11-3, Lin also met much resistance in his 12-10 loss in the second game. Lin, the Asian Cup winner, then regrouped himself to take away the following three games 11-9, 11-5, 11-5.
"I played at my normal level today. This was my first match at the World Cup, so I had much expectation towards it," admitted Lin.
"I didn't play in the group stage here. I felt a little nervous, but I prepared myself well for any difficulty in the match," he added.
Lin will next meet German veteran Timo Boll, as the latter overcame Brazil's Gustavo Tsuboi in straight games.
"I played many international tournaments this year, so I could adjust myself well in the match," commented Lin.
The second-seeded Dimitrij Ovtcharov of Germany booked a quarterfinal encounter against Alexander Shibaev of Russia, who shocked No. 8 seed Chuang Chih-Yuan of Chinese Taipei. The remaining two quarterfinalists were Japan's Jun Mizutani and France's Simon Gauzy.