Feature: Plucky Afghan student achieves top spot in national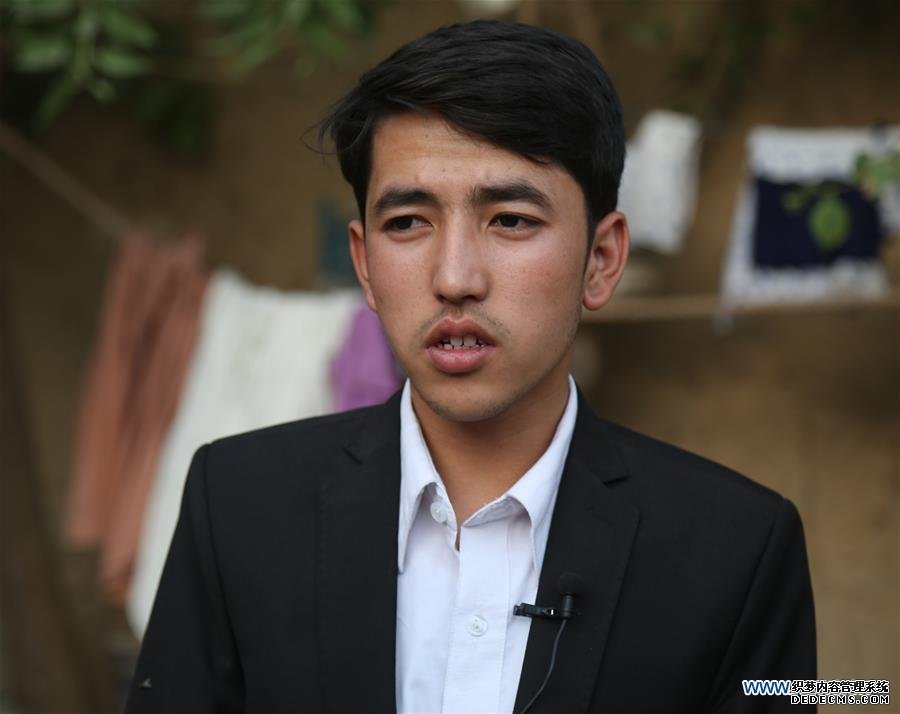 Mohammad Reza Rafat speaks during an interview with Xinhua News Agency in Kabul, capital of Afghanistan, Aug. 2, 2017. Mohammad Reza Rafat, 18, received the highest score in this year's university entrance exam among 169,000 examinees from 34 Afghan provinces. (Xinhua/Rahmat Alizadah)
by Fathulbari Makhdoom, Farid Behbud
KABUL, Aug. 8 (Xinhua) -- Life for high school graduates in the militancy-hit Afghanistan has never been easy as they face the huge challenge of passing the national university entrance exam.
"I usually spent five to 10 minutes eating food to focus on studying before taking part in the Kankor (a popular Afghan term for university entrance exam) exam. Once, I finished my meal within minutes as I was so busy with my lessons," Mohammad Reza Rafat told Xinhua recently.
Working in the carpet weaving industry in Dasht-e-Barchi, a few kilometers west of downtown Kabul City, after 14 years of fleeing harsh poverty in central Bamyan province's Panjab district, Reza, 18, said he dreamed of becoming a skilled medical specialist to remedy the pains of his citizens.
"So, I decided to study hard to become a cancer surgeon in the future to cure ailing citizens who spend huge amounts of money for treatment outside the country or in neighboring states," Reza said joyfully.
He said he had never believed it possible to get the top score in the Kankor, but considering his hard work and dawn-till-dusk studying, he hoped to achieve an eligible score to study medicine in the public test.
"My scores in the tentative exams were very good, making me hopeful to get a good score in the Kankor exams as well," said the student during an interview with Xinhua.
According to Reza, it was one of his classmates who first informed him of winning the top score. "I was sleeping, when one of my friends and classmate hurried to inform me about my success in the exam, but I thought he was joking."
"I didn't have the internet, or mobile phone to check if he was right, so I went to a nearby internet cafe to check. He was correct. I had succeeded in securing the top position in the national entry exam," said Reza, adding that he had scored 344.24 points to win the first position.
Among his future ambitions, Reza said he hoped to continue his higher education in one of the world's most esteemed universities, like England's University of Oxford, but if he failed would join an Indian or a Turkish University.
In a country plagued with security issues, Reza has been congratulated from far and wide.
"I met with President Ashraf Ghani and Chief Executive Dr. Abdullah Abdullah in their offices, where they congratulated and applauded me for the victory," said Reza who added earlier the Ministry of Higher Education and Minister of Foreign Affairs Salahuddin Rabbani have also commended him for his success.
Reza's father Ewaz Mohammad who is a worker in the Kabul municipality's sanitation department, could not properly support his seven-member family with a monthly salary of only 6,000 afghani (about 88 U.S. dollars), but encouraged his son to take supplementary courses, beside his regular school subjects.
"Along with my father's contributions, I supplemented the fees needed to study with funds I raised through selling small carpets," said Reza who thanked his parent for sparing no effort to support his education.
Reza's father said he was forced to leave Bamyan province for economic reasons, so headed to Kabul to seek work.
"Here in the capital of Kabul, I ended up working in the sanitation department of the Kabul municipality. Each month I earn 6,000 afghani as a stipend," said Ewaz.
More than 147,000 of nearly 169,000 examinees successfully passed this year's university entrance exam, of which 55,000 students are expected to enroll in private higher education institutions where they have to pay fees to study.